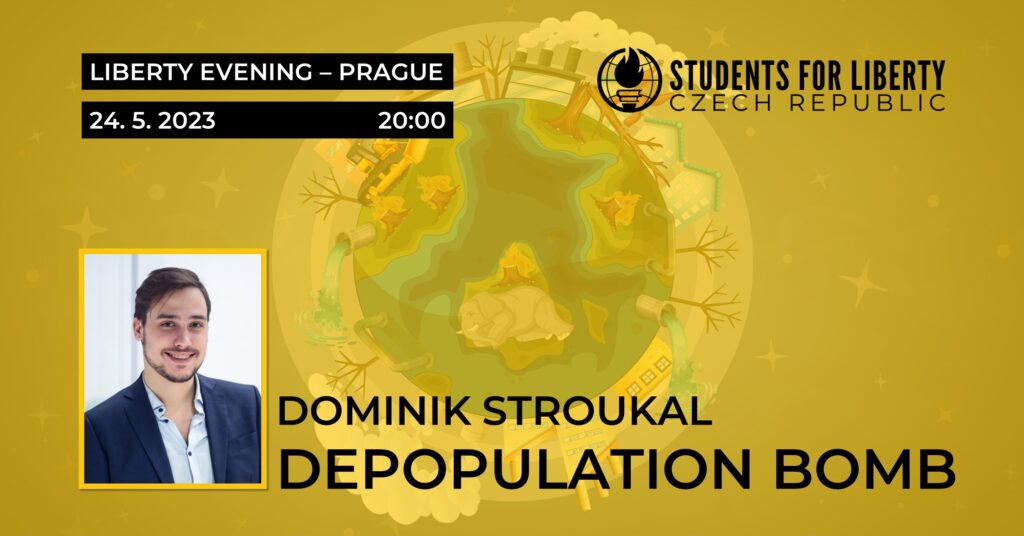 Wednesday 24. 5. 2023 20:00 | Dominik Stroukal | Kavárna Na Boršově
STUDENTS FOR LIBERTY LECTURE AND WELCOME SOCIAL FOR THE ATTENDEES OF ATLAS LIBERTY FORUM.
According to the United Nations, last year humanity passed the 8 billion milestone. But many experts say the Earth's population growth is set to stall or even begin to decline in the future.
Social environmentalists are cheering – after all, the fewer people the planet has to feed, the better for the climate! Is this really such happy news? Isn't it just the other way around? We will discuss this with Dominik Stroukal, an economist from the Metropolitan University in Prague and a member of the Board of Government Economic Advisors (NERV).
When: Wednesday 24th May 2023, 20:00
Where: Kavárna Na Boršově (Prague 1; 5 minutes walk from the Charles Bridge)
Speaker: Mgr. Ing. Dominik Stroukal, Ph.D
Admission: voluntary
After the lecture, we will stay for more drinks and more conversation with friends of liberalism from all across Europe.
We look forward to seeing you!
Facebook page Add to Google Calendar
---
Liberty Evening is a series of regular informal events on a particular topic, introduced by a lecture, followed by free discussion and fun amongst like-minded friends. Feel free to invite your friends and acquaintances!
If you enjoy Liberty Evenings or any of our other events, we would be delighted if you would support us with a voluntary donation.